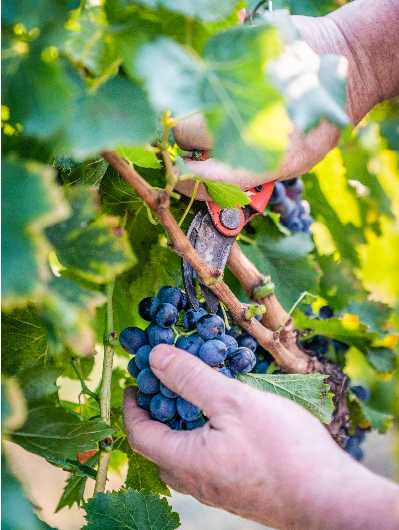 The domain
The highest care of vines and limited interventions in the cellar reveal the purest expression of the terroir for the elaboration of fine wines.
It is often said that the wine is the prolongation of the winegrower who makes it. In Cairanne, the Alary's wines have a common denominator, something that makes it recognizable. Perhaps it is the simple fact that each generation plants vine stocks while thinking of both the previous and following generations. The white grapes are harvested early in the morning to avoid oxidation and to control at best the temperatures of vinification. The grapes are pressed upon arrival at the winery. Each type of grape, Roussanne, Viognier, Clairette and Bourboulenc, is harvested at optimal maturity and vinified separately in order to preserve the best aromas and savours of each one. After a cold fermentation, the whites wines are aged in inox vat or in demi-muids.
For the reds the same principle prevails: to manually harvest each variety of grapes at optimal maturity based on the soil and the exposure. Once the grapes are delivered to the cellar they are gently placed on conveyor belts to, if need be, benefit from a final sorting but mostly to preserve them. It is this gentle treatment that will ensure the preservation of the fruity aroma recognized in the Domaine Alary wines. The clusters are then destalked, in order to keep only the grain's noble tannins, which are the skin and the pips. The grapes can finally macerate in concrete vats. The various types of grapes are vinified in a traditional way with pumping-over twice a day, with cap-punching for certain varieties of grapes based on the vintage. Accordint to the vintage, the grape-varieties, and the reactions in vat, grape stomping and sticking operate in order to obtain exceptionally fine tannins and an unforgettable fruit! The work of the winery is a matter of experience, of rigor, but it is also necessary to be attentive.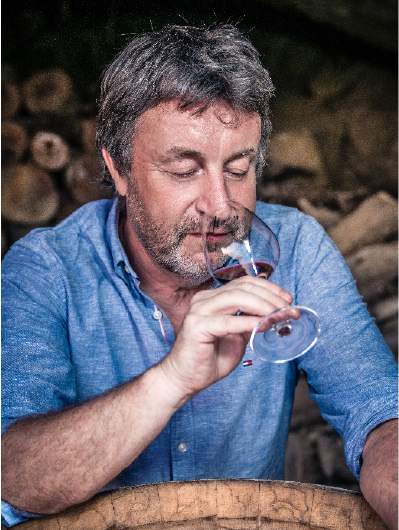 Depending on the desired concentration and the grape variety, Grenache, Syrah, Mourvèdre, Counoise, the vatting period may vary from 15 to 35 days. At the end of this first phase of alcoholic fermentation and vatting, we rack the grapes that have become wine. We then separate the ``jus de goutte`` from the ``jus de presse`` from each variety. It is at this time that malolactic fermentation will begins. The wines are then aged in concrete tanks.
During the winter, the alchemy of blending begins and last until spring and even until the beginning of summer, to obtain elegant wines, with fine freshness and pleasant fruity.
Learn more about the vineyard