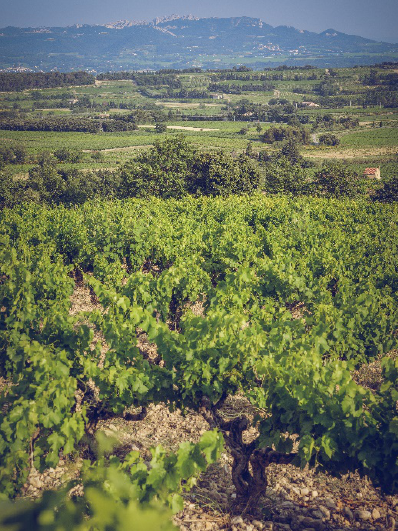 The domain
Vineyard
The vineyard extends on 29 hectares, of which 24,5 hectares in red and 5,3 hectares in wite, only on the territory of Cairanne. The vines, with an average age of 35 years old, are implemented on a remarkable diversity of terroirs, printing their personality : hills exposed South, rich in white and blue loamy soils, Garrigues terraces, high plateau with worn pebbles under with and red loamy soils, and richest soils near the Plan de Dieu vineyard, for the wines without appellation.
The vineyard is driven the most naturally as possible, according to the principles of organic agriculture. From the pruning to the harvest, the vines receive the best care as possible. The vines are sodded in order realise organic inputs and limit erosion. Stripping, disbudding and green harvesting enable to obtain an optimal maturation of the grapes. The yields are limited around 30 hectolitres per hectare.
The harvests are exclusively manual for a perfect sorting of the grapes, in the vines and at the cellar. The trees in border of the vines are preserved and new ones are regularly planted.